Hello there! I've never put together a holiday gift guide but thought it would be fun to do one this year. All of these links are amazon affiliate links so if you click through and purchase I get a small percentage, at no additional cost to you.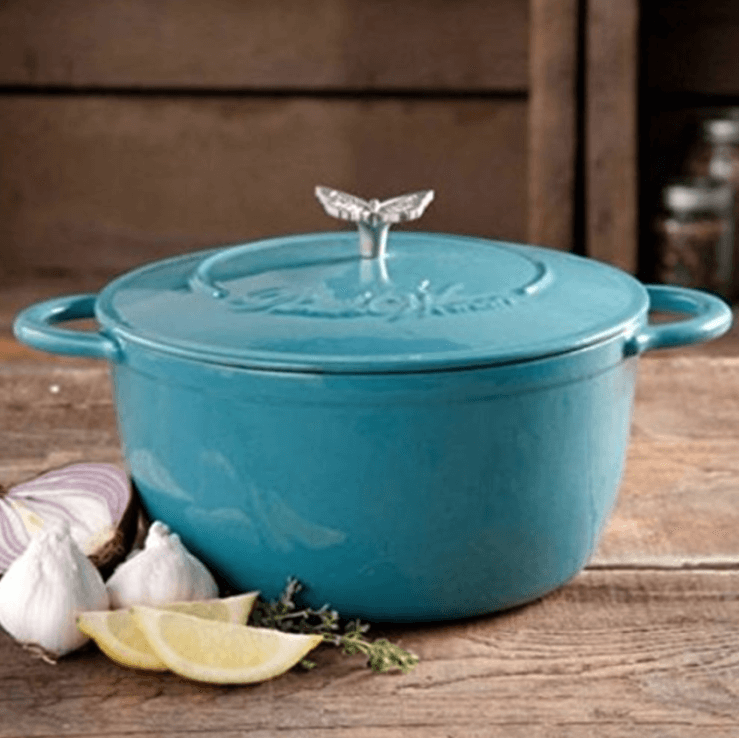 I have this The Pioneer Woman dutch oven and use it often. This turquoise color is gorgeous and the size is perfect for a family of 4-5 with leftovers for lunch the next day.
 I also have this The Pioneer Woman Batter Bowl. The polka dot pattern is cute. I love to use this for quick mixes such as prepackaged one addition mixes like muffins.
 I do not have one of these but have been eyeing this Reversible Cast Iron Griddle for a while. I used to have a griddle but it went out and I haven't replaced it yet.
 This is a bit on the pricier side but I LOVE my KitchenAid Artisan Tilt-Head Mixer!! I use it all the time! I like that I can turn it on and leave it while it mixes whatever I'm making.
 Another KitchenAid product is this 3 speed Hand Mixer. I don't have one of these but I have made several soups that require blending either by using an immersion blender and since I don't have one I have to ladle steaming hot soup into the blender to blend it and it's quite messy and it's easy to get burned.
 Now this is something I really NEED. (Ok maybe not but yes) Keurig Programmable Coffee Maker. I drink coffee every single morning. I need one of these. Maybe I'll gift myself with one this year.
 And to go with that you'll need a K-Cup Carousel to hold all your delicious flavors of coffee or whatever drink you prefer.
 If you aren't sure of your preferred hot drink of choice or is you just like trying new flavored coffees then this Coffee Variety Pack is a great idea also.
 I don't have one of these Dual Breakfast Sandwich Makers but I think I'd love it. I don't actually make hot breakfasts often but maybe with this I would. It's interesting anyway.
 These silicone baking mats are great! I have one that ironically enough I forget about so it's in the cabinet more often than not. But when I DO use it I remember how great it is and wonder why it isn't out more.
Anything you'd add? This is a rather hodge podge list of kitchen items but there's fun in that itself.