I may earn a commission when you purchase through my links. See my Disclosure Policy here.
Delicious Nutella Brownie Loaves that are super easy to make and impossible to not eat.
Nutella is my love language. No kidding. I love nutella. I eat it by the spoonful and so do my kids.
That's really great for my "healthy eating" plans.
Anyway, I've tried to make Nutella Brownies before but they just didn't work out. This time however, they sure did work! These were do addicting and I'm not even going to tell you how many of them I ate because that would make me look bad. (5).
My daugther's love language is also Nutella and she loved them just as much as me.
To bad she's in school 6 hours a day and I'm alone at home easily tempted. Ahem.
Anyway, all you need is this:
Yes, that is cinnamon applesauce you see there. I replace the oil in cakes and brownies with applesauce. I've done that since I was a kid. YUM!
Any one of your favorite boxed brownie mixes will work. Just fall the directions and add 3/4 cup of nutella to the batter. How easy is that?
These are seriously SO GOOD.
Pin for Later!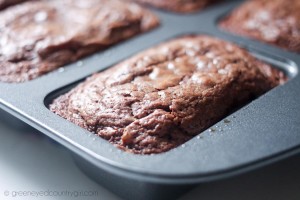 Nutella Brownie Loaves
Print
Ingredients
Boxed brownie mix

3/4

cup

nutella

2

eggs

Applesauce
Instructions
Prepare the brownie batter as directed on the box but replace the oil with applesauce (same measurement).

Add the nutella and mix well.

Pour batter into mini loaf pan.

Bake at 325 for 35-40 minutes, you will need to watch the time closely, you don't want the edges to burn but the middle of the loaves to be raw. (ask me how I know).

Serve and enjoy!
Do you like this recipe? Follow me on Pinterest!
Click here to see what I pin ---> @foodanddiyblog