Do you struggle with planning your family's menu?
Does searching Pinterest for meal ideas leave you feeling exhausted?
Does trying to find a menu planning system, that works for your family, make you feel overwhelmed?
Are you tired of menu planning taking so long?
If you answered yes, I know exactly how you feel!
For years, I used all different kinds of methods for planning my family's menu. I've used printables I found online, pen & paper, Google Docs, and a variety of different apps on my phone.
I couldn't find a system that worked for me and didn't seem to take forever.
I finally created a system that works for me and doesn't leave me feeling overwhelmed.
If if works for me, it can work for you.
Here is what I use to plan my family's menu each week:
Grocery list categorized by the fastest path through the grocery store.
Our Family Favorites meal list.
Pinterest. But not in an overwhelming way.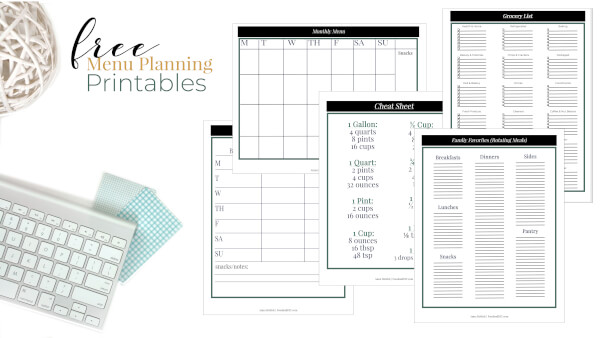 Here is how I plan my family's menu:
Do a quick inventory of the pantry, frig, & freezer. This is a mental inventory. I do not choose to take the time to keep a paper or digital copy of my inventory. (Who has time for that?!)
Take a look at our Family Favorites (Rotating Meals) printable. I choose 3-4 dinners from this list.
Search Pinterest for one new to our family recipe. Usually, this is a new dinner, sometimes it's a dessert.
Are you ready for menu planning to be a much easier task?
Enter your email in the box below and I will send you five FREE printables!!
Yes, only FIVE. No need to send you a bagillion printables that will only leave you feeling more overwhelmed!
---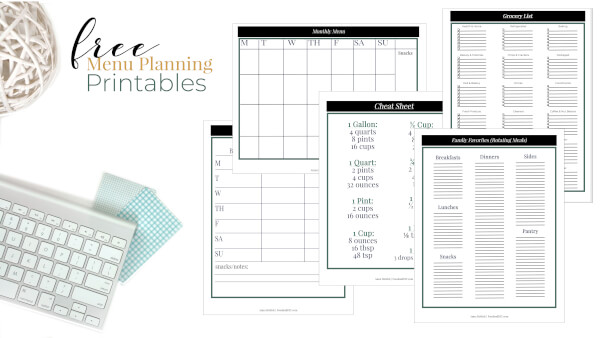 What exactly will you get?
Family Favorites (Rotating Meals)
Grocery List
Weekly Menu Planner
Monthly Menu Planner
Kitchen Cheat Sheet