I may earn a commission when you purchase through my links. See my Disclosure Policy here.
Chocolate. Pumpkin. Bread. Yes Please. Give this Chocolate Chip Pumpkin Bread a try next time you need a new recipe to treat your sweet tooth.
Hey there! I'm back with another pumpkin recipe. It finally feels like Fall around here! One morning last week it was downright cold. The low was 48! I was loving it but my family wasn't too happy with the sudden extreme dip in temps.
I love almost anything pumpkin flavored. Mr. Right says that women go nuts for pumpkin anything this time of year. I'm not sure about all women but I sure do!
I did not make this pumpkin bread from scratch. I picked up a box of mix. My directions called for water, oil, & eggs. I switched the oil for cinnamon applesauce. I almost always use applesauce instead of oil in all my baking. It's healthier and I like the texture change. Cinnamon applesauce just happened to be the variety in the fridge.
Pin for later:
Ingredients
1

box pumpkin bread

1

cup

water

3

tbsp

applesauce

2

eggs

1/2

package of chocolate chips

1-2

cups

chopped pecans
Instructions
Preheat oven to 375.

Grease or use cooking spray bottom only of a 9-8 inch loaf pan.

Mix all ingredients.

Pour into pan.

Bake for 40 minutes.

Cool for 20 minutes then use a knife to loosen bread from pan.

Serve!
Do you like this recipe? Follow me on Pinterest!
Click here to see what I pin ---> @foodanddiyblog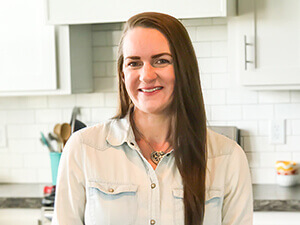 I make my home in Oklahoma. I enjoy creating new uncomplicated recipes, browsing Pinterest for the latest in home decor trends, reading, and decaf iced lattes. Click here for more about me.