Well hello there! It seems that it's been a while since I've posted a new recipe. I didn't intentionally take a break…in fact I've been working my rear off….but between work, holidays and travel, and the most horrid stomach bug ever, I have not been keeping my head above water.
I had intended to take the two weeks that the kiddos are off from school as a winter break but I've been gone from the blog so much and I miss it so I decided to keep working for most of the break.
Today I have for you Cinnamon Sugar Muffins. These minis are really simple yet spectacular. My kids and I love cinnamon toast, I prefer the cinnamon sugar mixture to be crunchy, but my kiddos prefer there to be so much butter on the toast that their's is soft. These muffins are perfect either way. My kids gobbled them up.
These would be perfect to make one day and have for breakfast for the week. You could even substitute the flours for healthier versions. Right now in any baking I am loving bread flour. It makes baked goods rise so beautifully!
Alright, here is what you need: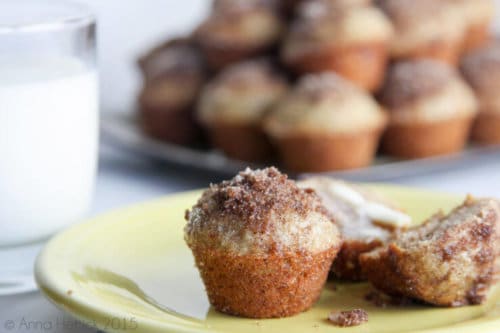 Cinnamon Sugar Mini Muffins
Delicious Cinnamon Sugar Muffins. Perfect for cinnamon toast lovers and to make ahead!
Ingredients
Baking spray

preferably with flour

2

cups

bread flour

1 1/2

cups

sugar

1

tsp

baking soda

1

tsp

ground cinnamon

1/2

tsp

allspice

1/4

tsp

ground nutmeg

1

egg

slightly beaten

1 1/4

cups

milk

2

tbsp

salted butter

melted

2

tsp

vanilla extract

Topping:

1/2

cup

sugar

1

tbsp

ground cinnamon

1/2

stick melted butter
Instructions
Preheat oven to 350, spray mini muffins pans well.

In a large bowl, sift together the flour, sugar, baking soda, cinnamon, allspice, and nutmeg.

Add the egg, milk, melted, butter, and vanilla.

Stir until just moistened. DON'T over mix, this will make the muffins tough.

Spoon batter into muffin pan, filling to 3/4 full.

Bake for 15 minutes, or until a toothpick comes out clean.

Allow to cool for 5 minutes.

For topping, dip the muffins in the melted butter and then in the cinnamon sugar mixture.

Serve and enjoy!
Tell me, what is your favorite flavor of muffins?