I may earn a commission when you purchase through my links. See my Disclosure Policy here.
I've found the best functional farmhouse baskets and bins for storage solutions that are pretty and practical! No more ugly storage!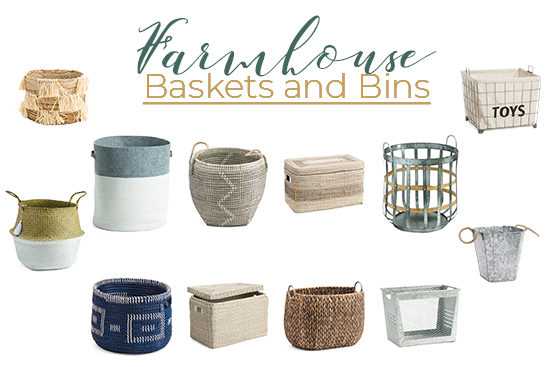 When my kiddos were little the only toy storage we could really afford was the cheapest plastic storage tubs Walmart sold. And while that was certainly semi-functional and inexpensive it was definitely not cute or pretty. While it kept the toys contained and off the floor (mostly), the non-matching, plastic-y look was certainly not very pleasing to the eye from a design standpoint.
The look honestly drove me insane. Maybe if all the storage was the same exact shape and size it would've added some uniformity to the room and helped some. But every time we would get the toys all contained, one of the kids would have a birthday or Christmas would happen and we would end up needing more bins.
And of course, in true Walmart fashion, when I went back to buy more bins, they would be out or have changed the color or style of the bins available. I would end up with whatever worked at the time and that resulted in lots of toy storage bins that didn't match and were different. Not a cohesive design at all.
Nowadays, though, with the current trend of having functional, yet still eye-pleasing storage, you can find all kinds of storage solutions that are much prettier than the bins I used to use and lots of them won't break the bank. You just have to know where to look.
I ALWAYS check Ross, TJ Maxx, and Home Goods before I shop anywhere else for basket or bins. I've had such good luck at TJ Maxx for large baskets that are really inexpensive!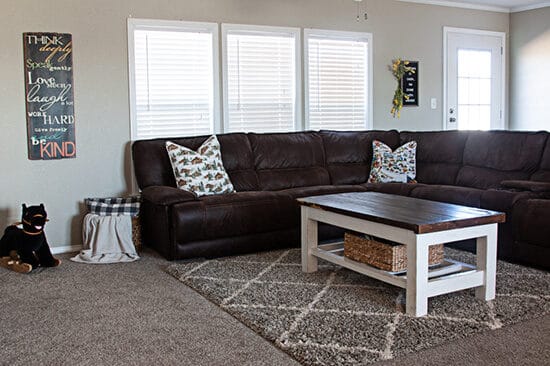 The basket under the coffee table and the one over in the corner of the couch are both from TJ Maxx. If I remember correctly the one under the coffee table was $12.99. I needed a basket that was wide but short to fit in there and hold the baby's toys.
The basket over in the corner sometimes holds pillows and a throw, sometimes it holds the baby's overflow toys. That one was also $12.99! The same size baskets at Target or Pottery Barn are so much more expensive!
Below are some cute baskets and bins that make for beautiful, functional storage. Simply click on any of the photos for the size and info or to purchase. Full disclosure, if you click through and make a purchase, I receive a small (pennies!) commission. Thank you for your support in this way.
Farmhouse Baskets and Bins
Which baskets and bins are your favorite? I really like the the first bin in the second row! I love that gray color block.
If you found this post helpful or useful I'd LOVE it if you could share this post! You can do that by using the sharing buttons at the bottom of this post or over at the left ←.