So Mr. Right got me this huge box of kitchen goodies to help me out in my food blogging. It was FULL of all kinds of things, so many I still haven't even used all of it. One of the things in my Christmas box was a box of mini mason jars.
Talk about CUTE.
Okay? I love mason jars anyway because nothing screams mason jar bandwagon like having mason jars all of the place right? Ok let me just say that I have ALWAYS liked mason jars. Burlap though? yes I jumped right on that bandwagon and I'll stay on it even when everyone else jumps to the next thing.
What does this have to do with Mason Jar Pudding Snacks? Well, nothing I guess… let's carry on shall we?
So I made four of these babies and my husband ate 2 of them before bed, and then got up in the middle of the night and ate another. Since they are just regular chocolate pudding with whipped cream I'm assuming the mini mason jars make them taste better or something? I don't know. Anyway the point is they were a hit! Plus they would be cute for a party or when you want an easy dessert that looks like you put in tons of effort!
All you need is 5 minute pudding mix, whipped cream, and a piece of chocolate to shave. And cute mini mason jars.
Pin for Later!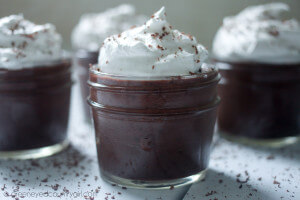 Mason Jar Pudding Snack
Easy, cute, mason jar pudding snacks great for a party or a fancy (but easy) dessert.
Ingredients
5

minute pudding mix

Milk

Whipped cream

Piece

of chocolate
Instructions
Mix your pudding according to package directions.

Pour the pudding into the mini mason jars, let it set for a couple of minutes.

Scoop some whipped cream onto the top of the pudding.

Shave (or grate) some chocolate onto the top.

Serve and enjoy!