I may earn a commission when you purchase through my links. See my Disclosure Policy here.
Kale Corn Chip Summer Salad. Admittedly that title sounds a bit like "ummm, gross?" but believe me, it is SO GOOD. Bell peppers and grilled corn round out this delicious summer salad.
Kale Corn Chip Summer Salad. Admittedly that title sounds a bit like "ummm, gross?" but believe me, it is SO GOOD. Bell peppers and grilled corn round out this delicious summer salad.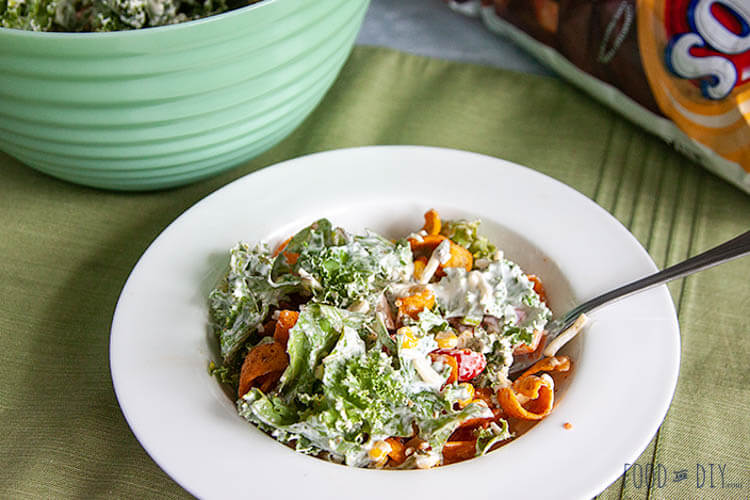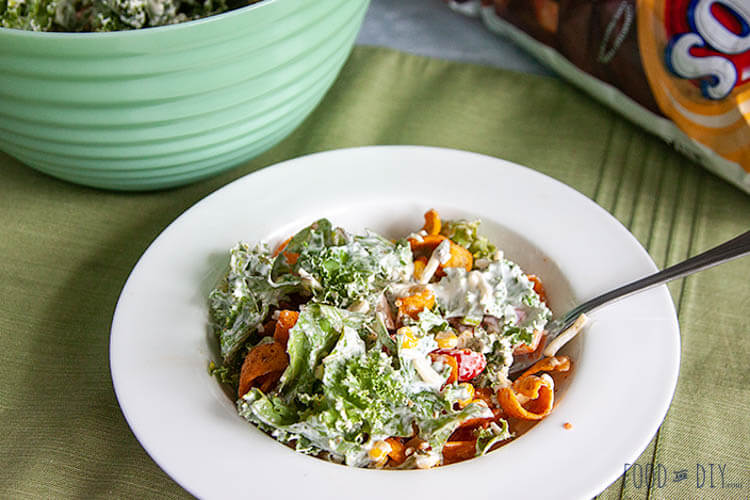 I had this salad for the first time at a dear friend's house in Texas. I wasn't really paying attention to the salad when I was piling my plate high with all the good food. But once I had my first bite I knew that I HAD to have it again!! I texted my friend for the recipe and told her I wanted to post this salad on my blog.
That was almost 3 years ago. I don't even know why so much time passed before I made and posted this recipe.
The first time my husband tried this salad he LOVED it! He even asked me to make it for a family dinner we had recently and everyone else love it as well!
I know when you see the ingredients you are kind like "Really? does that work together? Are you sure?" But just trust me. This salad is seriously my favorite salad right now.
What makes this salad great for potluck dinners or taking to a family gathering is that since you make this salad with kale, the kale doesn't get soggy and gross! You, of course, need to wait to add the corn chips until you serve the recipe or they will definitely get soggy, and that is no bueno.
This is what you need, red bell peppers, yellow or orange bell peppers, grilled corn, green onions, shredded cheese, kale, sour cream, real mayo, ranch dressing mix and corn chips (not pictured).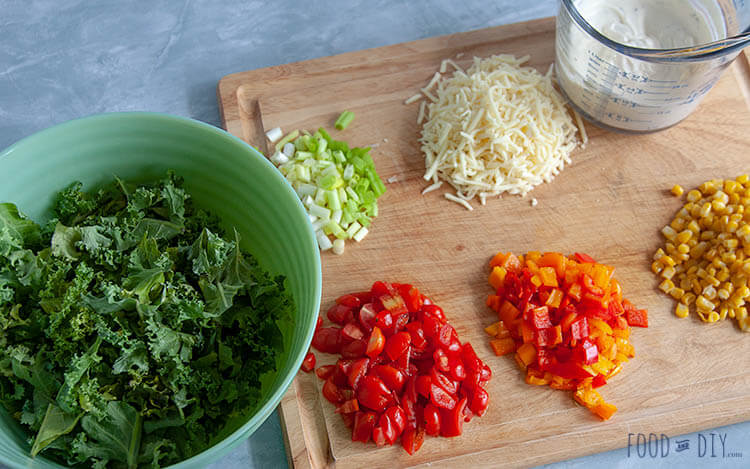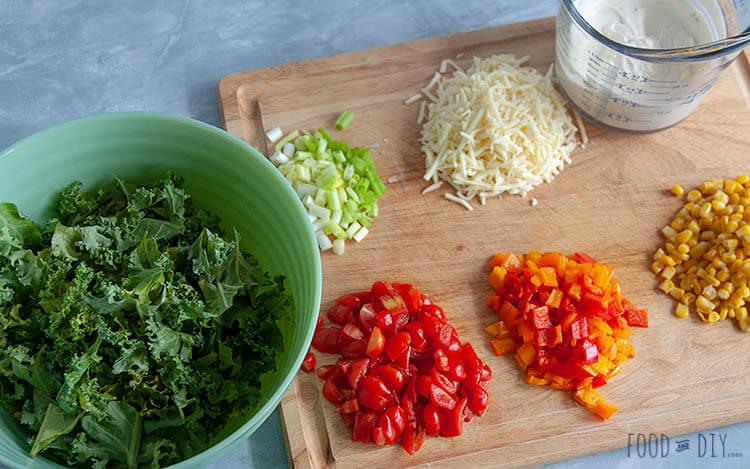 You are going to toss all the veggies and the cheese together in a bowl. Meanwhile, whisk the sour cream, mayo, & ranch dressing mix until it's blended all together. Then add the dressing to the veggies. Toss well until it's all nicely mixed together.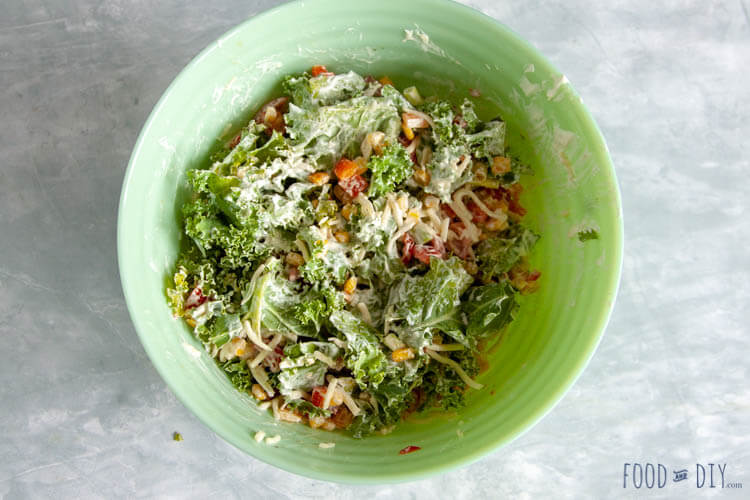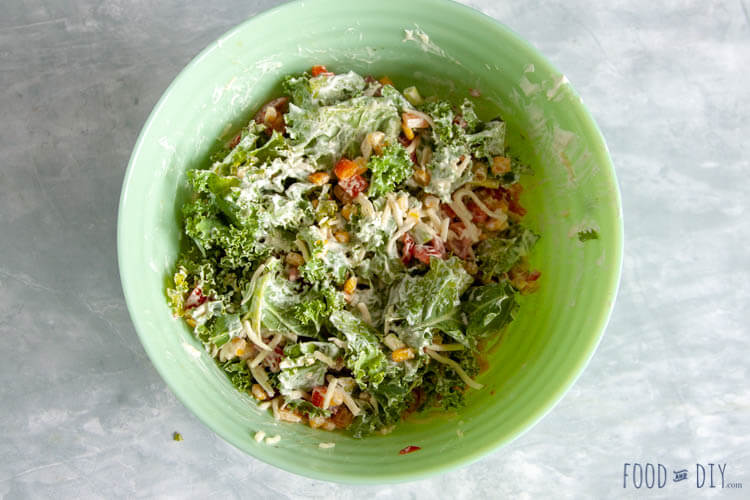 That is it! It's super easy to toss together. When you are ready to serve, you can stir in corn chips to the entire salad, or you can let each person top their salad with corn chips. You can use plain corn chip OR add some nice flavor by using chili cheese corn chips!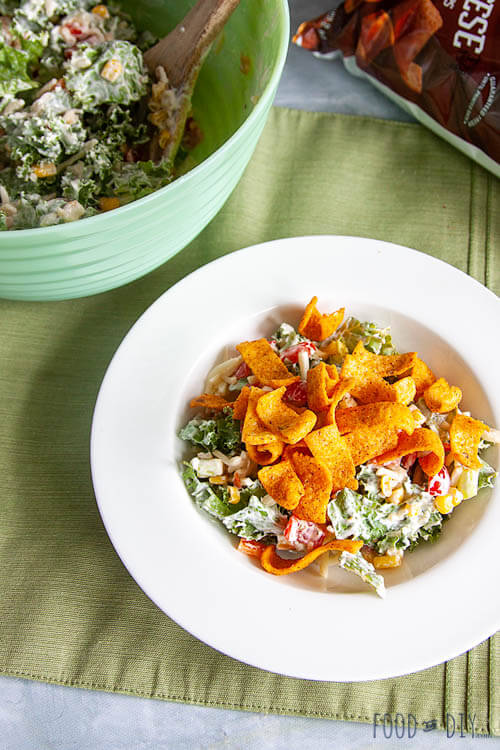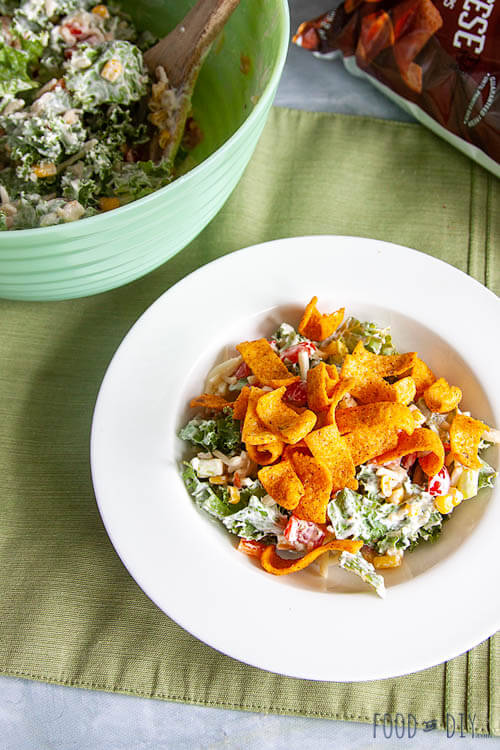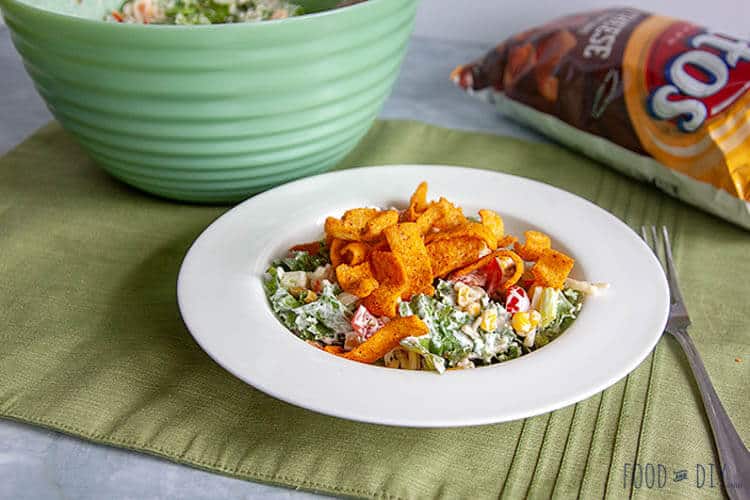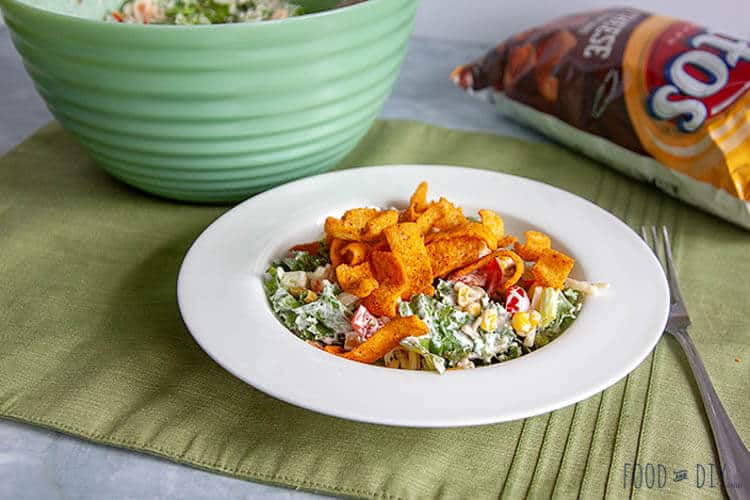 Tell me what you think! Have you ever had Kale Corn Chip Salad? Will you try it? Tell me in the comments below! ↓
---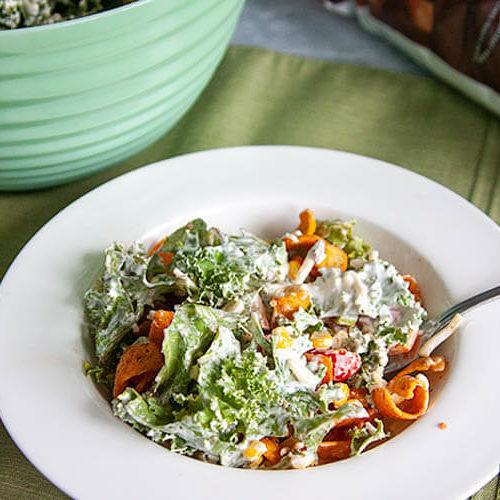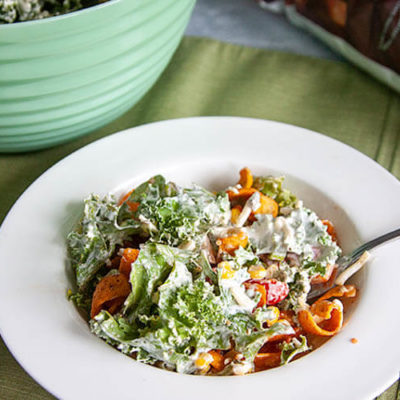 Ingredients
3-4

cups

chopped kale

1

large

red bell pepper, diced

1

large

yellow or orange bell pepper, diced

4

green onions, diced

1

cup

shredded cheese

(I used shredded monterey)

1/2

cup

real mayo

1/2

cup

sour cream

1

tbsp

ranch dressing mix

1

bag

corn chips, salted or chili cheese
Instructions
Deseed the peppers and diced them and the green onions.

If you didn't buy pre-chopped kale, chop it into bite-sized pieces.

In a separate bowl, mix the sour cream, mayo, and ranch dressing mix together.

Toss all the veggies & the shredded cheese in a large bowl, once they are evening mixed, add the sour cream mixture, toss until everything is coated evenly.

If you are serving immediately you can go ahead and add the corn chips but if you aren't serving right away, wait to add the chips later.
Notes
If you think you'll have leftovers you can also just let everyone top their salads with corn chips individually.
Since different foods are different sizes, nutritional facts are approximate and may not be exact but they are as close to accurate as I can calculate.
Nutrition
Serving:
1
g
|
Calories:
445
kcal
|
Carbohydrates:
13.9
g
|
Protein:
7.7
g
|
Fat:
40.4
g
|
Saturated Fat:
12.3
g
|
Cholesterol:
42
mg
|
Sodium:
432
mg
|
Potassium:
341
mg
|
Fiber:
1.7
g
|
Sugar:
1.8
g
|
Calcium:
229
mg
|
Iron:
1
mg
Do you like this recipe? Follow me on Pinterest!
Click here to see what I pin ---> @foodanddiyblog
---
Save for later!
Pinning for later or sharing this recipe with your friends is so appreciated!
Simply click the share button of your choice over on the left ←.