I may earn a commission when you purchase through my links. See my Disclosure Policy here.
Get a taste of Italy with this Chicken Pesto Linguine recipe that's perfect for a busy weeknight dinner or a nice dinner date at home!
This Chicken Pesto Linguine Pasta recipe is SO EASY and a crowd pleaser! Alternatively, this would be a great option for a date night in.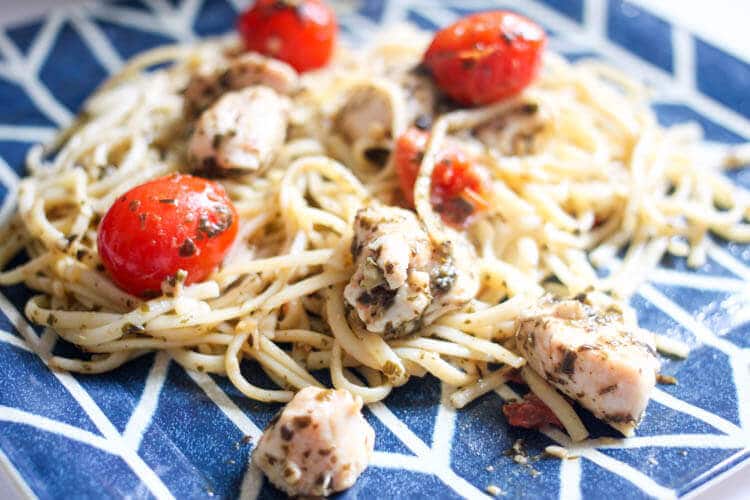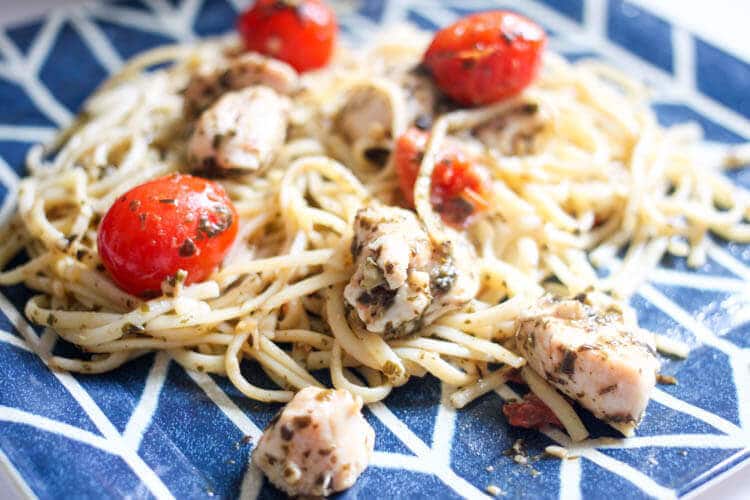 I made this Chicken Pesto Linguine last week and my husband devoured it. I had a bit saved back for my mother-in-law to try and I had to keep him out of it! I didn't even bother with getting my kids to try this recipe because they have tried several different kinds of pasta and they are not fans ever unless it's boxed mac and cheese. Crazy kids.
This recipe has been adapted from a recipe I got in my weekly e-meals subscription. The original recipe calls for 1.5 lbs chicken, I liked the noodle/chicken ratio with a bit more chicken so in the future I'll be making this dish with 2-2.5 lbs of chicken.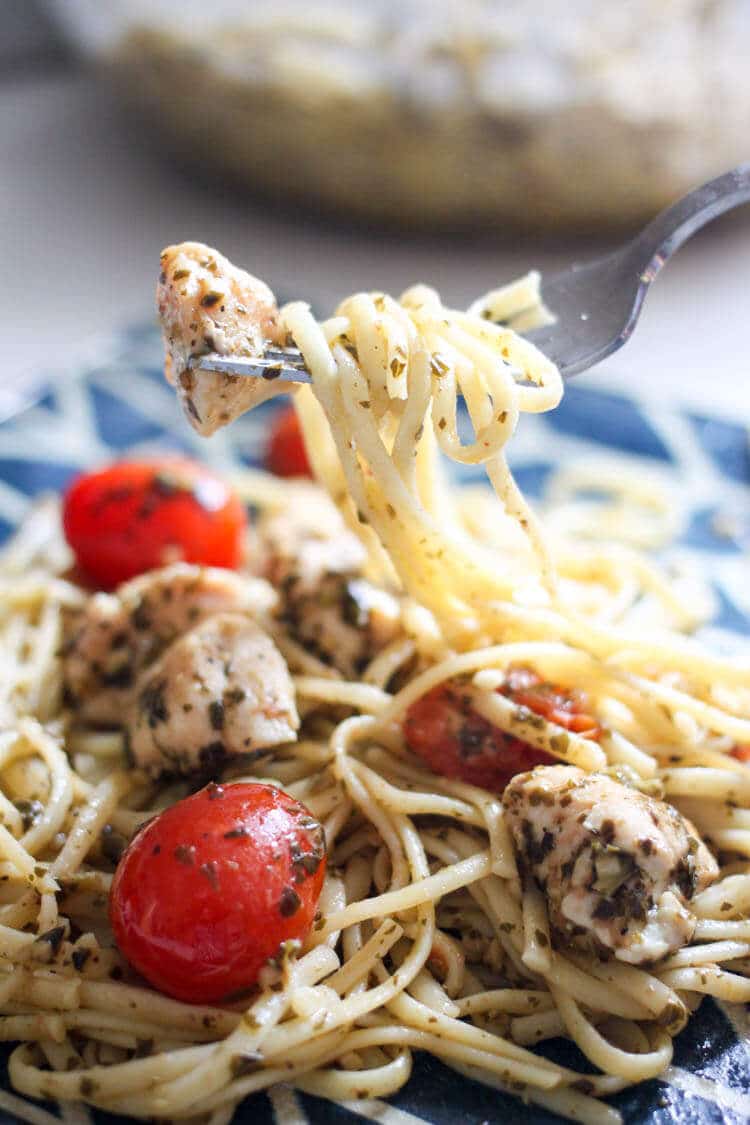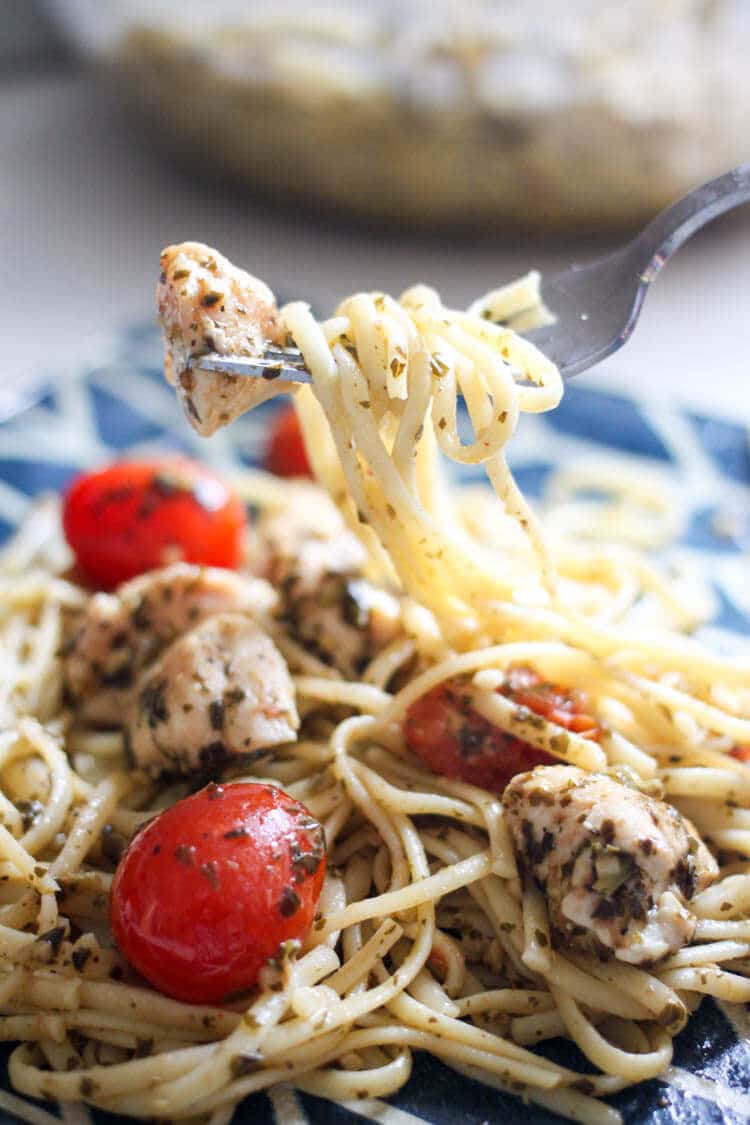 All you need to make this is Linguine pasta, chicken breast, grape tomatoes, basil pesto, salt, pepper, and red pepper flakes.
Do you prefer homemade pesto or do you buy store-bought?
---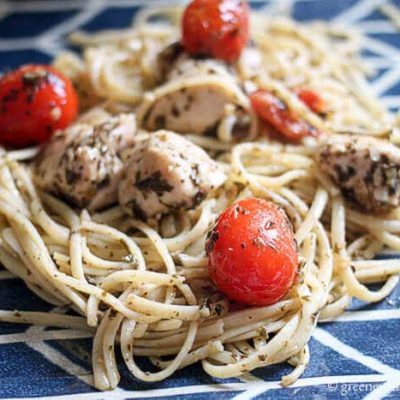 Ingredients
1 16

oz

box linguine

2

lbs

boneless

skinless chicken breasts

1

tsp

salt

1/2 tsp black pepper

3

tbsp

olive oil

1

pint

grape tomatoes

1 10

oz

jar basil pesto

1/4

tsp

crushed red pepper flakes
Instructions
Cook pasta according to package directions.

Cut chicken into bite-size pieces, sprinkle with salt pepper.

Heat 2 tbsp olive oil in skillet, add chicken, saute for 7-10 minutes or until chicken is done.

Remove chicken from skillet, add remaining oil and tomatoes, cook 6-8 minutes or until tomatoes start to burst.

Return chicken to skillet, stir in pesto and red pepper flakes, cook until heated thoroughly.

Toss chicken and linguine.

Serve with crusty bread & olive oil.
Do you like this recipe? Follow me on Pinterest!
Click here to see what I pin ---> @foodanddiyblog
---
Save for later!
Pinning for later or sharing this recipe with your friends is so appreciated!
Simply click the share button of your choice over on the left ←.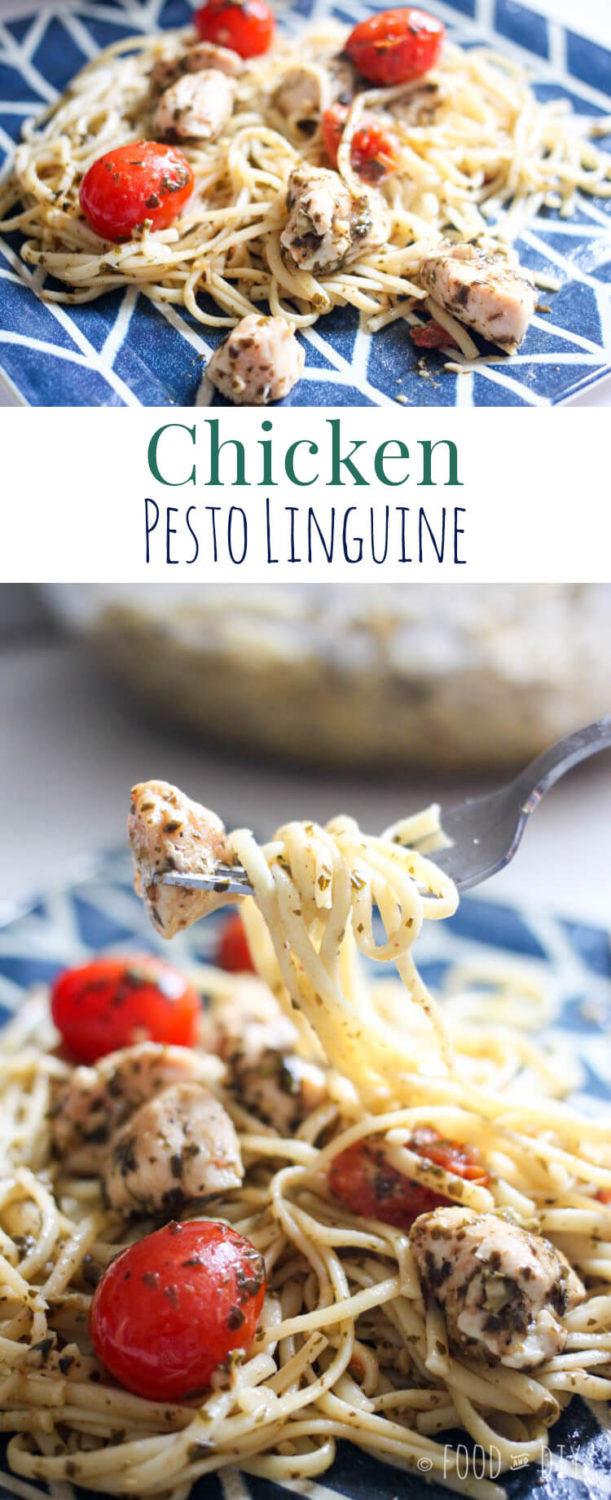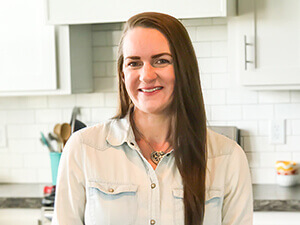 I make my home in Oklahoma. I enjoy creating new uncomplicated recipes, browsing Pinterest for the latest in home decor trends, reading, and decaf iced lattes. Click here for more about me.